Our Infrastructure
All Season Herbs manufacturing unit and registered office are situated in over 2,64,000 Sqft of land in an economic green zone at Whitefield within 30 minute drive from Bangalore, the capital of Karnataka, India. This exclusivity and isolation from industrially polluted areas has been of great advantage to our product quality enabling them free from any sources of pollution and contamination.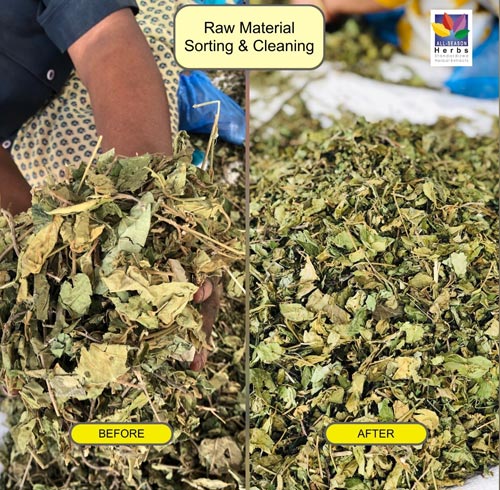 sorting
We pay a lot of emphasis on the origin raw material. Before any herbal raw materials are allowed into our facilities, we request a "pre-ship" sample for analysis. This sample is analysed using organoleptic (sensory) and laboratory methods for yield and assay, and if approved, it is authorized for order.

Once the raw material arrives at our facility, it is immediately quarantined for QC review. At this point, a qualified Quality Control member will extract samples for immediate testing in our laboratory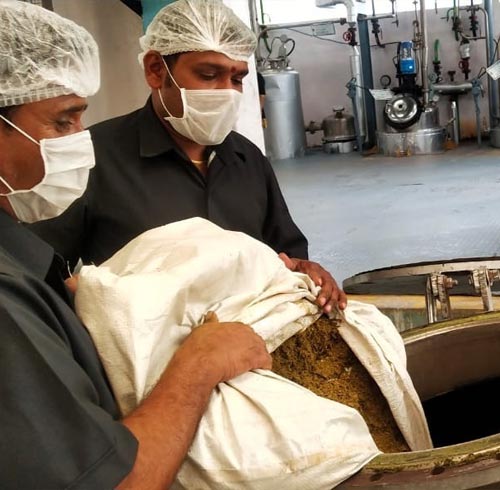 EXTRACTION
The core of our manufacturing process is the extraction area, which comprise of systematically designed 6000Ltrs to 1500 litres capacity extractors ,reactors, falling film evaporators in stainless steel accompanied by flame proof circulation pumps and agitator motors to comply with fire safety norms.

Sufficient ventilation by natural means and enhanced wind turbines further ensures safety and conducive work environments for our productions team. The current capacity of our plant can handle extraction of herbs up to maximum of 360-400 MT of input raw material per annum.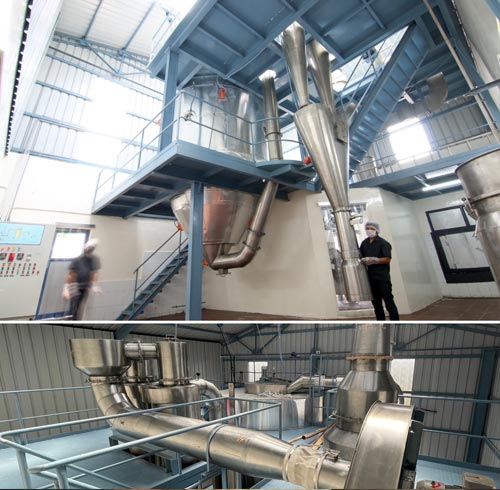 SPRAY DRYING
In the year 2004, All Season Herbs was one of the first herbal extract manufacturing units in Bangalore to establish its own dedicated spray drying facility. As the technology was relatively new to the industry, we found very few takers for spray dried products due to its steep cost compared to conventional drying methods. In the years that followed, we kept promoting the significant advantages of spray dried products to clients and partners who soon started realising its benefits through the quality and consistency of the powders we supplied.

Today, after 16 years since our first spray drier plant , we have invested in an all new completely Stainless steel , state-of-the art unit with 100 Litres / hr input capacity that got commissioned in the month of March 2021. The new spray drying plant is completely customised and situated in an dedicated location of our extraction facility to enable smooth flow of product from liquid state in extraction through to the spray drier and further in to the finishing departments as powders.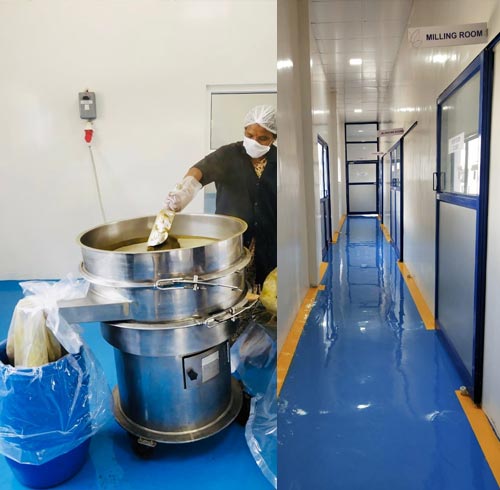 FINISHING & PACKING
In accordance with the guidelines, we have created an all new finishing and packing facility in the year 2018 in order to conform to the standards recommended for the authorization and licensing of the manufacture and sale of food and beverages, cosmetics, pharmaceutical products, dietary supplements etc.
Large independent Milling, Sieving, Blending and Packing room with air handling units ensure no cross contamination while handling simultaneous multi-product processing. In lieu of the large batch sizes, we have installed 1500 Ltr Octagonal Blender to guarantee product uniformity and consistency.

Packing and storage of all our QC approved extracts are done in standard HPDE Food Grade drums as multiples of 25kgs